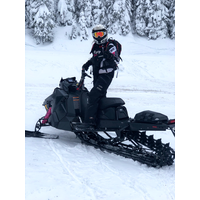 It didn't look like we were going to have that many ladies take us up on free trail passes but that changed shortly after noon when 10 trucks and trucks and trailers arrived at the parking lot rapid fire in a few minutes.
We were bursting at the seams so I moved to the lower lot to prevent people having to jackknife to get turned around to return to the lower lot (sorry Matt!).
So awesome seeing so many ladies, families and riders from other clubs out (Hunters Range, Kelowna Snowmobile Club, Lumby Mabel Lake, Seymour Arm Snowmobile Club, Salmon Arm Snowblazers).
If that wasn't enough fun for the day we had a few members doing some parking lot trailer repair to replace a blown bearing. Everyone was loaded up by 6:30pm and heading out, good day eh!
PS - Jezza says thanks for the dog biscuits.
Check out photos and more posts on the Vernon Snowmobile Association Facebook Group.
---