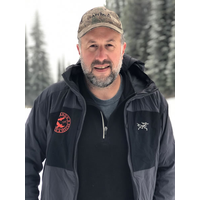 We're pretty sure Kevin wears a cape but he keeps it well hidden. Kevin was awarded the 2020 winner of the BC Snowmobile Federation President's Award for his dedicated support for the Vernon Snowmobile Association, Hunters Range Snowmobile Association and the Lumby-Mabel Lake Snowmobile Association. Kevin's involvement with the VSA dates back to when he was a teenager through his family's longtime volunteer support of the club.
Outdoor recreation enthusiasts will appreciate Kevin's extensive involvement with Vernon Search & Rescue and the countless hours he's spent combing the backcountry in the worst possible conditions looking for lost/injured riders.
It's hard to believe he has spare time but when he does Kevin enjoys quadding, camping and restoring old Fords.
Kevin is a true snowmobile enthusiast, he's super patient supporting family, friends and others as they build their skills in the sport.
---