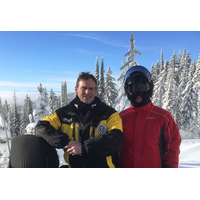 Roy has been co-director of Trails & Facilities for the last 2 years.
Roy is an easy going guy but also one of the hardest workers we know. After the recent windstorm Roy spent a long day bucking 40 downed trees off the trails.
Roy loves sledding, when he isn't busy volunteering for the VSA he is a snowmobile tour guide for Okanagan Recreation Rentals. When the snow melts you'll find Roy doing everything to ensure visitors to the Okanagan enjoy their boat rentals to the maximum.
---