Getting Here
We invite you to visit the Vernon Snowmobile Trails at Silver Star Provincial Park. Our high elevation location on the eastern ridge of the Okanagan valley ensures dependable snow depths and mild winter temperatures making the Silver Star area an ideal winter recreation destination for alpine and nordic skiing, ski touring, snowshoeing and snowmobiling.
The Okanagan is known for dry champagne powder and our location features amazing views of the Monashee Mountains to the east and the City of Vernon to the west.
We want to make your first (and every) visit the very best so please read the information below for a map and directions, information on how and where to park and how to purchase a day pass (or Season Pass).
If you have any questions please contact us by email at vernonsnowmobileclub@gmail.com  

Map & Directions
The Vernon Snowmobile Association trails are located in Silver Star Provincial Park, 22kms northeast of Vernon. 
Google Map & Directions to Vernon Snowmobile Association trails.

Parking Lot Plan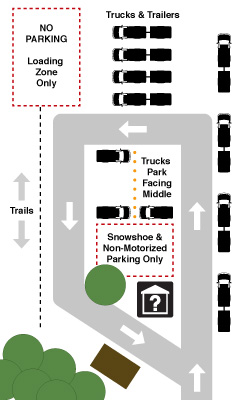 Silver Star Provincial Park is enjoyed by many recreational users and we share our parking lot with snowshoers, ski tourers and dog walkers.
Parking spaces in Provincial Parks are precious so please familiarize yourself with our parking lot plan prior to arrival to reduce parking lot frustration and so we can all get a spot in the lot!

Purchasing Trail Passes
Purchase your Trail Pass online from the comfort of your home or at the information kiosk at the entrance to the parking lot which contains a trail map and information on how to purchase trail passes.

Trail Pass Purchasing Instructions - Passes are per person
Tickets are valid on day of purchase only.
Remove envelope and place $15 inside.
Remove large section of receipt and retain on person as proof of payment.
Place small section of receipt inside envelope with money.
Deposit envelope in fee collection box.
Enjoy your day!
Purchasing a trail pass directly supports grooming, maintenance and facilities provided by the Vernon Snowmobile Association, a volunteer not-for-profit group.